PaintDude - Painting Lego Robot
---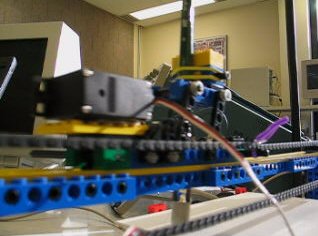 In the Spring of 2004 I created an electronically controlled painting robot as my final project in 6.115, Microcontroller Project Laboratory. I began the project by creating a completely original painting structure out of Legos. I then mounted stepper motors, servos, and sensors. These components were interfaced to an 8051 microcontroller and connected to a computer via USB. I wrote code in assembly to control the robot's motion and wrote a program in Java to convert an arbitrary bitmap file to a format readable by PaintDude. The results speak for themselves.

Watch the video (30MB)

Read the report
Questions? Comments? Share your thoughts on the Discussion Forums...
if ($google) { echo $googlerectangle; } else { echo $yahoorectangle; } ?>