Game Idea Center
How it Works
Contribute
Listed on this page are drafts of possible game ideas. These ideas come from gamers, programmers, artists, and others. They are nowhere near completion. Feel free to read each game idea draft. If you have something you would like to add, modify, or discuss, please send us your input and we will be happy to add it to the list for others to read. This page will only work if users send feedback. Also, if you have an idea for a project not listed, send us the idea and we will make it into a game idea draft for everyone to view, add, and modify. If we use your idea to make a game, we will give you credit and will give you a free copy
.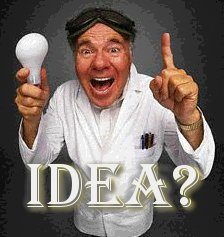 Use Ideas
All the ideas listed here are free for anyone's use (public domain). If you are having trouble thinking of ideas for your game, look here. If, while browsing the ideas, you happen to see a game idea that you like and are thinking about making that idea into a game, please message us. We want to hear about it. We will add a link to your project in the project page. However, if you just want to swipe a few ideas, go right ahead. That's what the list is for!
Game Idea Drafts
Space RPG/strategy
Submitted by Mark Matczynski
Multiplayer Combat
Submitted by Rick McCaskill
3D Combat Racing
Submitted by Dread16
Colonization Strategy
Submitted by Mike Matczynski
Government Conspiracy
Submitted by Dread16
Space Mission Strategy
Submitted by Mike Matczynski
Space Strategy Colonization
Submitted by Micke Andersson
Post Apocalyptic RPG
Submitted by Mephs
Crime Fighter
Submitted by BoWWman
Tux vs. Bill Gates
Submitted by Dry-ice Corey Carter
Interactive Hip-Hop Game
Submitted by Derek Price

Yours could be here!

Description
Submitted by Your Name



Questions? Comments? Share your thoughts on the Discussion Forums...
if ($google) { echo $googlerectangle; } else { echo $yahoorectangle; } ?>
if ($google) { echo $googleskyscraper; } else { echo $yahooskyscraper; } ?>